Day 2 - Climate Conference
Denmark & Germany - 2022-05-10
On Tuesday, May 10, all of us – the Portuguese, the English, the Spanish, the Danish and the Germans – spent the day at the Escola Secundária Alfonso Lopes Vieira.
When we arrived, we were welcomed by the Portuguese students, who showed us around the school. Afterwards we gathered in the classroom where we were welcomed by the headteacher, and we all introduced ourselves to each other. The Portuguese teachers also gave us cool, generous gifts like an Erasmus+ bag and a European T-shirt.
Then we were divided into eight groups for different topics, to prepare arguments for a mock debate about the climate and the environment. For each topic, there were two groups debating each other: one that was against electric cars, for example, and another group that was in favour of them. It was an interesting, relevant, and educational debate. The group which had to support the positive aspects of climate change did not have it easy!
We got to work across the different nations the project involves because all the groups consisted of students from each country. This way, we all got to know each other personally and already formed our first international friendships.
We also had lunch at the school, in the canteen where all the students eat daily. It was a culinary experience as we got to taste the so-called Bacalhau, a fish dish. It is one of Portugal's most famous dishes, and once you have tasted it, you can understand why. The vegetable soup, however, was our favourite.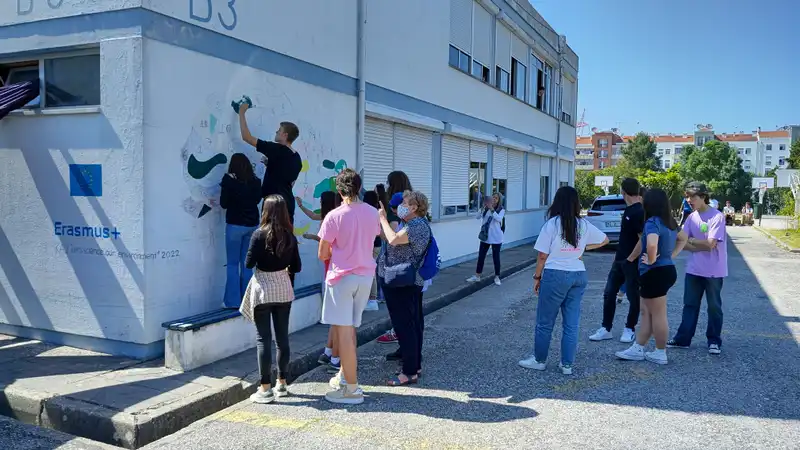 After a nice long lunch break relaxing in the sun, all of us painted an enormous, colourful tree with our Erasmus+ and the school's logo on one of the walls, which was a lot of fun. After taking a group photo together in the school garden, in the evening as a reward for work we all went to an Asian restaurant with a super delicious buffet where the sushi and the chocolate fountain emerged as favourites.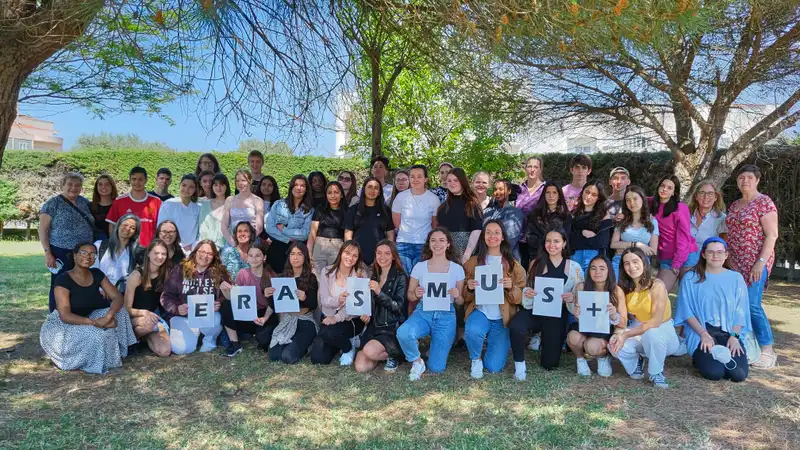 In the evening, following the Portuguese, most of the students walked through the streets of the beautiful city of Leiria and got to know each other even better. It was the perfect end to a great day!