Day 1 - Arrival & Getting-To-Know
The spanish students - 2022-05-09
On 9th May some of us, the students that are participating in an Erasmus project called "Lets science or school environment" from the high school Francisco the Goya, Barcelona, Spain, travelled to Leria, Portugal, to meet, share ideas and discuss opinions with other students from Germany, Denmark, England and, of course, Portugal.
The first day, we didn't do many things with other schools, but we experienced a true adventure before we arrived at the hotel.
We met at the airport entrance at 10:00 am, 2 hours and 20 minutes before the take-off, because we needed to check in, pass the control area of the airport and board the plane that was supposed to take us to Lisbon. As everything was planned, after arriving at the airport of Lisbon we expected to take a private transfer that carried us to the hotel, Eurosol Residence Hotel, Leiria.
But nothing happened as we had expected, we had a lot of problems with the check in due to two reasons: the first one was that we had a rugby team in front of us in the line, there were so many players and the queue was really slow. The other one was that there wasn't enough personnel at the checking in desks, some people were asked to walk forward and skip the line because their plane was about to leave, but no one called us.
As a result of that incompetent management, even we had arrived at the airport soon enough, we missed the plane, and we were near desperation. Fortunately, our teachers were able to find a solution, and we were able to take another plane at 2:20 pm to Porto, only two hours later than the plane that we should have taken.
But the adventure wasn't over yet. The consequence of travelling to Porto was that we missed our private transfer, and when we arrived at Porto airport, we were confused about what to do. Our teachers decided to take two taxis to Leiria, and then when we came back to Barcelona, they would try to solve all the financial problems of the bus. We travelled about two hours by car to Leiria.
When we arrived at the hotel thinking that we were two hours late, we had a big surprise, we were the first country to arrive. At the end, we were able to relax and go to the swimming pool while were waiting for the rest of the students to arrive.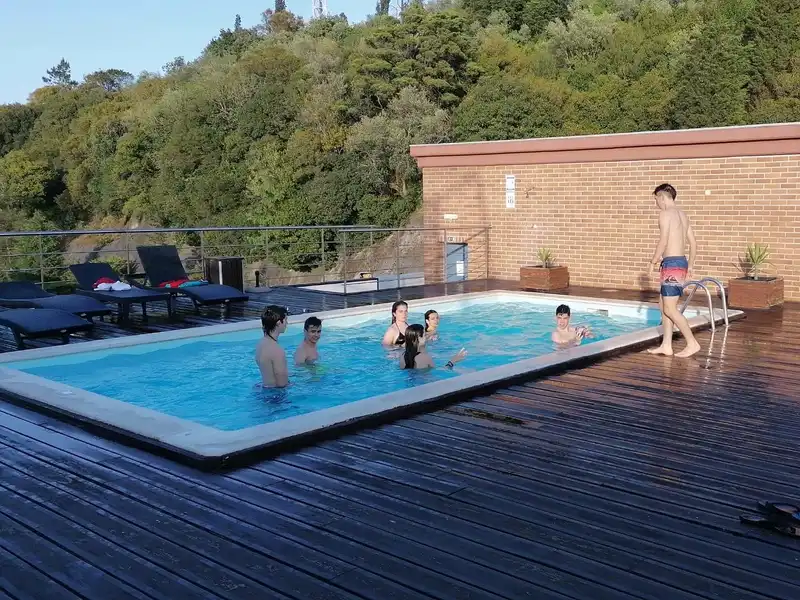 To conclude a busy day we had dinner with the other teenagers from other countries, but honestly, at that time we didn't feel like meeting and speaking to each other. It was from the next day on that we started to know each other and we were able to work and have fun together.